Energy
Creamy Peanutty
A creamy nutty staple enhanced with adaptogenic properties in maca and cacao to elevate your energy and mood to the next level.
Brown Rice Protein, Maca, Nutritional Yeast, Gluten-free Rolled Oats, Brazil Nuts
Oat milk*, banana, unsalted peanut butter, gluten-free rolled oats*, apple, blueberry, brazil nuts*, hemp seeds*, sunflower seeds*, brown rice protein*, almonds*, maca*, nutritional yeast, cacao, lime
(*Certified organic)
Contains peanuts, tree nuts. May contain traces of gluten.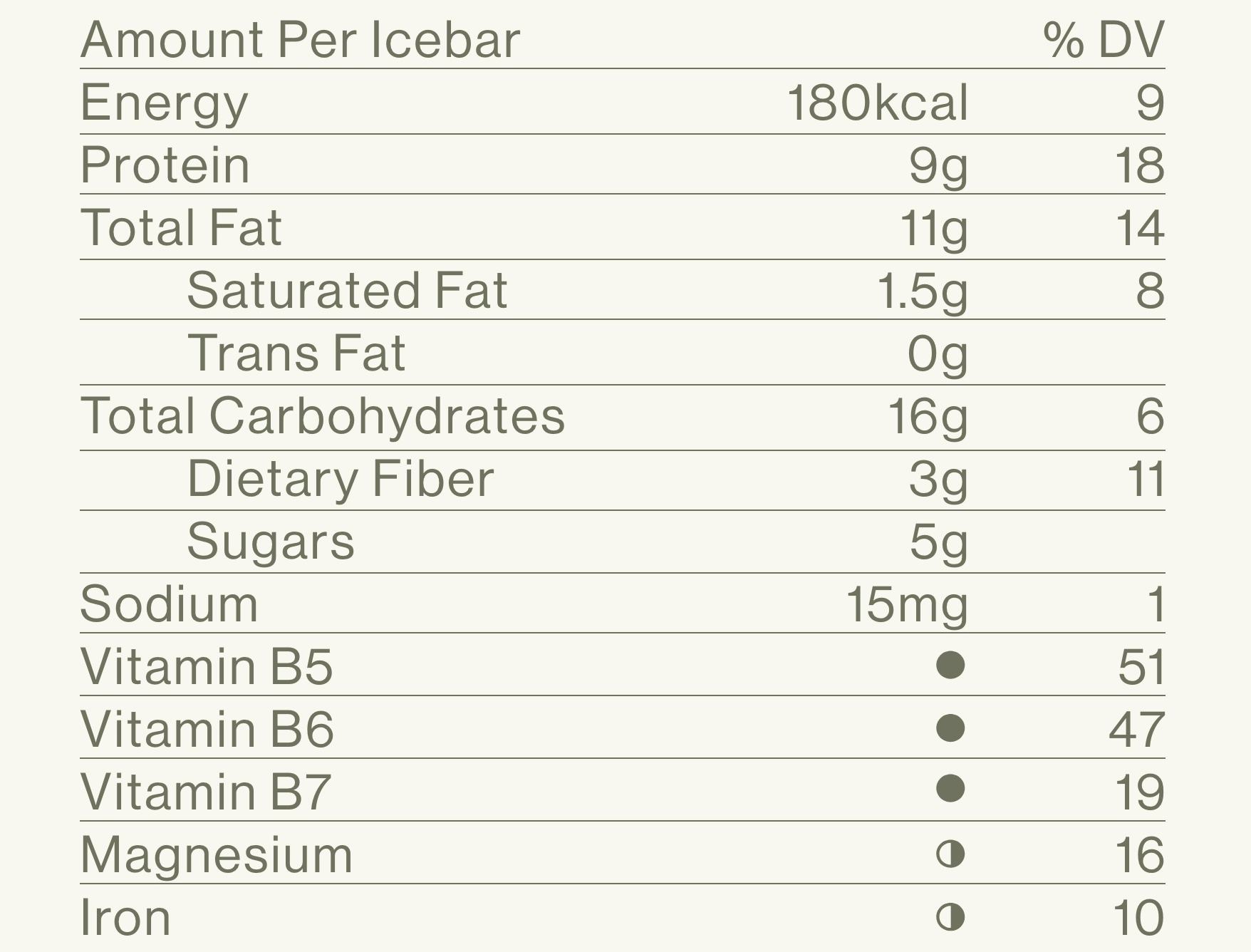 Low-calorie breakfast smoothie
Lasting energy boost before your workout
Pick-me-up snack during the day
Healthy option for your sugar cravings
Vegan
Wholly Natural
Low GI
Gluten-free
Source of Fibre
Packed with Superfoods
What can I do for you?
Steady + Sustainable Fuel
Promotes Blood Circulation
Nutty
Includes
Energy and Recovery
Rich and scrumptious, but guilt-free.
Move
Includes
Energy and Immunity
One for the "hyperactives".
A Bit Of Everything
Includes
De-stress, Detox, Energy, Immunity and Recovery
A well-rounded super-pack.
Functional smoothies — packed with natural nutrition, ready in an instant.
Two ways to enjoy
Icebar—Dive right into it for a cool crunch.
---
Smoothie—Blend1 with your liquid of choice2.
---
1.   Recommended practice—with a glass of liquid and ½ a banana.
2.   Oat milk for richness and goodness (to the planet, too).
Storage and Packaging Recycling
Storage
In the freezer. For optimal freshness, consume within six months upon receipt.
Packaging
100% FSC-certified and zero plastic. Our packaging is designed to live a thriving second life with you.
Bar Wrapping
FSC-certified unbleached total chlorine free (TCF) greaseproof paper from IfYouCare.
Individual Box
FSC-certified cardboard paper.
Package Wrapping (if any)
FSC-certified, soy-based inks, acid-free paper from noissue.
Our Earth Says
First - reduce,
if not - reuse,
last resort - recycle.
Bar and Packaging Wrapping
Return to us clean on your next delivery for us to recycle.
Individual box
Recycle in the paper section.
Step One
Nutritional Research
We work with certified nutritionists to formulate natural recipes that are fit for purpose.
Step Two
Prioritise Sourcing Local
We always source local where possible to minimise carbon footprint. For less conventional ingredients, we source from suppliers that not only produce quality foods, but also generate positive outcomes for their communities and Earth.
Step Three
Vacuum Blend. Freeze.
We vacuum blend, then freeze the mixtures immediately to retain maximum nutrition within the produce.
Step Four
Minimal packaging
We pack and deliver your orders with only what is necessary to minimise negative planetary impact.