Chillax
Nori Umami
Seaweed-flavoured crunches infused with shichimi. Baked with baobab and psyllium to neutralise muscle fatigue and instil mental calmness.
Seaweed, Sesame, Almonds, Baobab, Psyllium, Dried Spinach
Gluten-free rolled oats*, canola oil, maple syrup*, walnuts, almonds, peanuts, chia seeds*, psyllium*, seaweed, sunflower seeds*, tamari*, baobab*, spinach powder*, poppy seeds, white sesame, black sesame, garlic powder, shichimi, onion powder
(*Certified organic)
Contains peanuts, tree nuts, soya.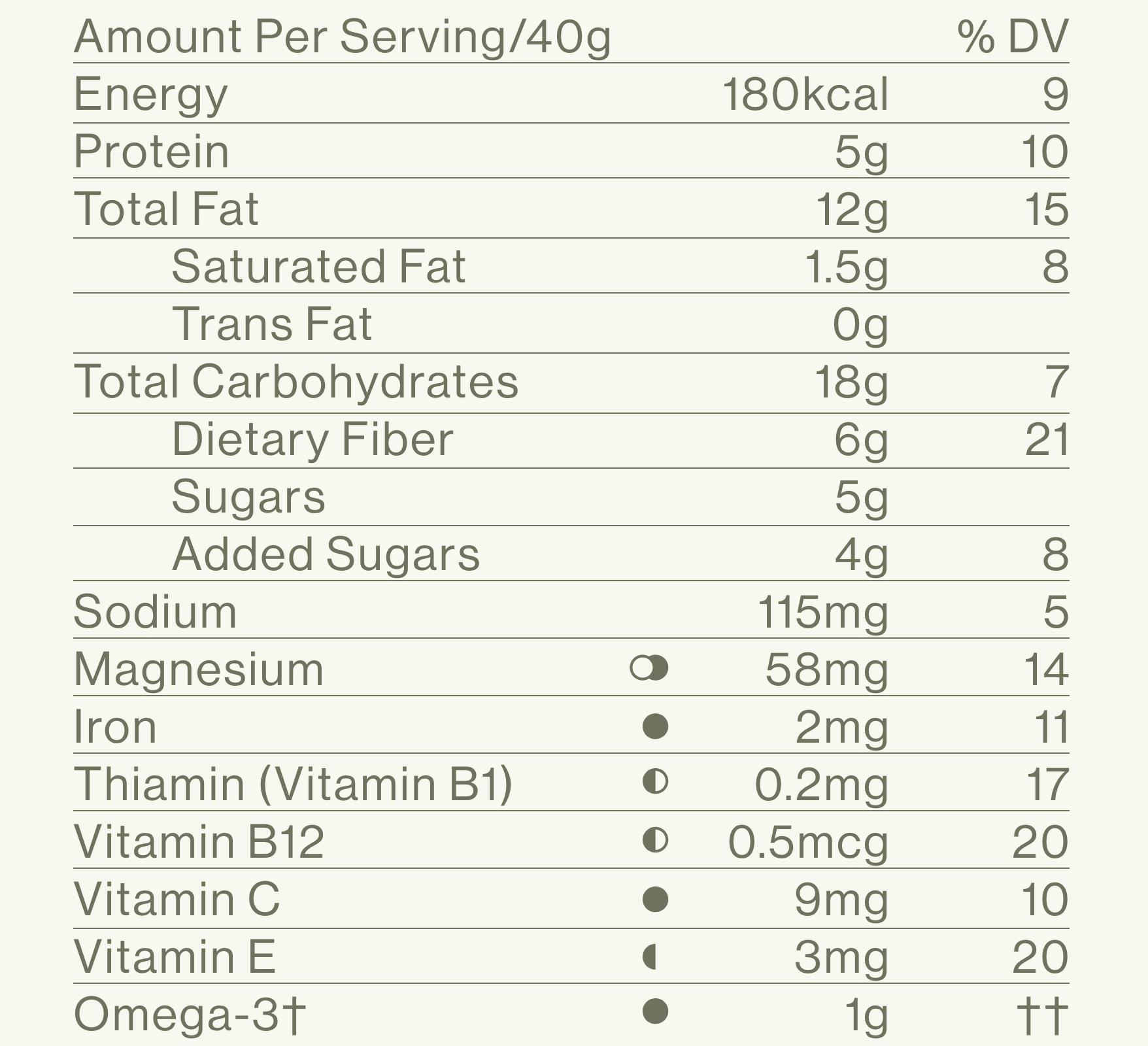 Physical fatigue from work or exercise
Mental stress and mood swings
Muscle soreness and tension
Tiredness from sleep disturbances
Vegan
Wholly Natural
Low GI
Gluten-free
High Fibre
Source of Protein
What can I do for you?
Soothes Muscle Tension & Soreness
Alleviates Mood Swings & Sleep Disturbances
Functional Granola Concept
Crisp clean fuel - tastes sweet or savoury, for breakfast, lunch, snack, or dinner.
TWO WAYS TO ENJOY
Crunch with salads, toasts, wraps, and grains.
---
Munch in handfuls by the jar.
---
Storage and Packaging Recycling
Storage
Best stored in freezer to retain maximum nutrition and crunch for up to three months.

Otherwise, store at a cool dry place away from light to be consumed within a month.
Packaging
Our packaging is designed to live a thriving second life with you.
Glass jar
Enclosed with sealed wooden lid.
Packaging sleeve
Pure paper attached with minimal tape.
Our Earth Says
First - reduce,
if not - reuse,
last resort - recycle.
Packaging sleeve
Trim away the taped parts and recycle in the paper section.
Step One
Nutritional Research
We work with certified nutritionists to formulate natural recipes that are fit for purpose.
Step Two
Prioritise Sourcing Local
We always source local where possible to minimise carbon footprint. For less conventional ingredients, we source from suppliers that not only produce quality foods, but also generate positive outcomes for their communities and Earth.
Step Three
Bake and Freeze
We bake and freeze our products immediately after to retain maximum freshness, nutrition, and crunch. Minimal excess stock is kept to upkeep freshness and avoid wastage.
Step Four
Minimal packaging
We pack and deliver your orders with only what is necessary to minimise negative planetary impact.